Business owners face increasing competition to win consumers' attention. After all, the average person is bombarded with anywhere from 4,000-10,000 ads per day and seven seconds is all it takes for that person to size your business up. No pressure, right? The good news is, small business marketing doesn't have to be insanely expensive or fancy for it to be effective. The key is to break down common misconceptions about effective advertising to give you foolproof marketing ideas to take your small business to the next level.
Sidestep Digital Tunnel Vision

Going digital may seem like the best way to catch the eye of potential new customers, but don't be fooled: people are feeling the pain of screen fatigue. A recent survey found that the average American will spend a total of 44 years looking at some kind of digital screen!
Everyone is spending more time in front of their phones, TV screens, and computers as a result of the ongoing pandemic, so it's imperative you don't make the mistake of overdoing it in regards to your digital marketing budgeting and strategy. Small businesses with fewer than 10,000 Facebook followers that publish 60-plus times per month get 60% fewer clicks per post than businesses that post five times or less per month. When it comes to digital marketing for small businesses, sometimes less is more effective.
Keep your online content focused on narratives that add value to your customers. Product demos, Q&A's, how-to blogs and videos are examples of content that promotes products and services but puts the main focus on the consumer and how the products can enrich their lives.
Don't Wait Until Opening Day To Market Your Business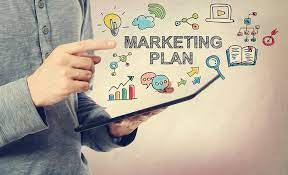 Grand openings are exciting; however, if you wait until your ribbon cutting ceremony to share your business with your community you could be cutting into your profitability. Use inexpensive marketing items to drum up excitement and enrollment ahead of your grand opening.
There are so many fun options to build anticipation for your business and increase your brand visibility before you open your doors. Cost-effective marketing materials like welcome banners or an inflatable tube man add a pop of color and movement to your window displays. These are easy ways to direct potential customers' eyes to important messages about signing up for memberships or placing reservations. Small, upfront marketing investments will increase your store's sales potential from day one.
Storefront Strategy Matters
In the digital age, traditional marketing materials, like custom signs and banners, still hold a powerful place in your business' marketing strategy. The U.S. Small Business Administration reported between 20% and 45% of a business' sales come from unplanned impulse stops, and most of those stops were a direct result of the business' signage.
If you don't have a storefront marketing plan, then you're missing out on potential sales. There are affordable items you can buy to make your storefront look inviting to passersby. Dress your front door up with teardrop flags and/or custom signs that promote daily deals. This type of signage will entice customers to visit your store for flash savings.
A study by the Economic Center of the University of Cincinnati found that adding signs or replacing outdated signs can increase sales by at least 10%. Signs are inexpensive, so updating your sign strategy to reflect your rebranding, reopening, or seasonal specials is an easy way to boost your sales.
These techniques are particularly useful for businesses in crowded strip malls and larger business districts. Flags create height which automatically increases visibility and catches potential customers' eyes as they walk or drive by your store.
Safety Should Still Be A Priority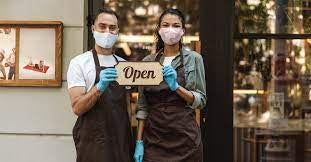 A return to some level of normalcy is on the horizon but customers are still cautious about their in-store shopping experiences. Don't let the increase in COVID-19 vaccinations fool you into thinking you can ease up on some of the CDC's safety protocols for small businesses. Customers are still taking the pandemic very seriously, so your business should too.
According to a recent First Insight survey, 53% of respondents plan to continue wearing a face mask in stores after being vaccinated. Sixty percent of respondents commented that continued spikes in Covid-19 across the country are deterring them from shopping in stores.
Your marketing message needs to clearly state your safety protocols. Use your window space to send frontline messages about masking, social distancing, and store cleanliness to potential shoppers. New customers are more likely to enter your store if they feel reassured about your business' commitment to safety.
Place signs with mask icons and social distancing messages at your entrance along with window decals to create highly visible safety assurances. Place touch-free hand sanitizer dispensers at your door to encourage customers to sanitize their hands before handling merchandise and use sneeze guards at checkout counters or in between tables. These exterior and interior items will reassure customers of your commitment to safety and keep you and your employees safe.
Marketing Through A Local Lens
It's tempting to focus on casting a wider net for your sales growth. However, building a relationship with your community is critical for small business success, so don't neglect the customers who helped you get to the place you are today. Afterall, 46% of all Google searches are seeking local information and 72% of customers who search for local businesses online end up visiting businesses within a five mile radius. People love to support small businesses for their convenience and community impact.
Shopping small means customers can make a difference in the community. 53% of people say shopping at small businesses gives back to their communities and gives them more purpose in their shopping habits. Support your community and grow your business with locally-focused marketing initiatives like percentage nights for schools, sports teams, and charities in your area.
Print percentage night schedules on signs or mail them out on brochures to your local patrons, that way, they never miss an opportunity to support their favorite causes and build a relationship with your business!
Set your company up for success with these simple strategies. Cost-effective, community-focused options are necessary for building and maintaining customer relationships. These foolproof marketing ideas will help you make wise decisions for your small business.
References
Finding Brand Success In The Digital World
Forbes
https://www.forbes.com/sites/forbesagencycouncil/2017/08/25/finding-brand-success-in-the-digital-world/?sh=500a559d626e
Can You Win Customers' Attention in 7 Seconds?
Crystal Clear Communications
Screen zombies: Average person will spend 44 YEARS looking at digital devices — and that's before COVID!
Study Finds
73 Remarkable Small Business Statistics to Know in 2021
Semrush
https://www.semrush.com/blog/small-business-stats/
Are Signs still important in the era of internet marketing?
Richardson Marketing
Americans won't be rushing to retail stores to shop after getting Covid vaccine, survey finds
CNBC
https://www.cnbc.com/2021/01/27/americans-not-ready-to-return-to-stores-after-covid-19-vaccine-survey.html
Digital Marketing vs. Traditional Marketing [Infographic]
Business 2 Community
https://www.business2community.com/infographics/digital-marketing-vs-traditional-marketing-infographic-02252932#:~:text=Traditional%20Marketing%20Defined&text=79%25%20of%20households%20say%20they,most%20trustworthy%20type%20of%20marketing