A lot can change in one year. Though the majority of the world is no longer living in full shutdown, the threat of the coronavirus prevails. There is a glimmer of normalcy, however, as more people receive their vaccinations. A not-so-distant return to normal coupled with warmer weather has many people flocking to stores, restaurants, and events for the first time since the shutdown in March 2020. Spring Fever is in full swing, and that's good news for the retail sector. These five tips will help your business boost its sales this season.
Why Spring Fever Could Cause A Surge In Sales

This February, nearly 73% of the United States was covered in snow. Traditionally, spring is a time for people to shake off the cold of winter and reacquaint themselves with sunlight. This year, in particular, consumers aren't just celebrating the sunshine. In the wake of COVID-19, they're looking for some levity and anticipating the return to normal that's looming on the horizon.
According to Dr. Kathryn Roecklein, increased exposure to outdoor sunlight boosts serotonin. Couple this elevated mood shift with the $1,400 stimulus check many Americans received between March and April and it's no surprise that the retail sector is projected to experience a surge in consumer spending this season.
Spring Clean Your Store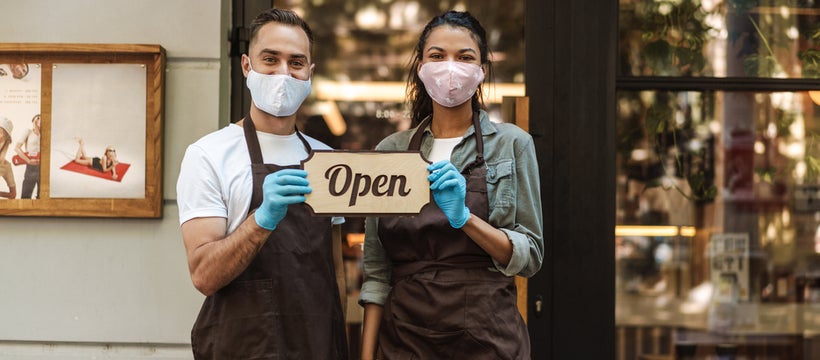 Spring Fever means you'll likely experience an uptick in customers visiting your store this season. However, in-store safety should remain a top priority for businesses. Customers may be ready to shake off the cold and get back to in-store shopping and large events, but it's important to remember that only 14% of Americans are fully vaccinated so far. Boost consumer-confidence for in-store shopping with a clean retail space and share your safety protocols with employees and customers alike.
Social distancing floor decals, hand sanitizer dispensers, and face mask reminders are highly visible ways to keep your customers safe while they shop with you this season. Window decals are another great and inexpensive way to remind customers to wear their masks. If you're not sure where to begin, Youtube is a great resource for tutorials on in-store safety measures or showing you how to apply social distancing decals and window clings. These items will give customers confidence that you take their in-store safety very seriously.
Supercharge Your Social Strategy
Fifty million small businesses currently use Facebook Business Pages to connect with customers and expand their outreach. When you consider that 71% of customers are likely to buy from a brand they've had a social media experience with, it's easy to see why getting social can grow your business.
Many social media platforms have groups and pages devoted to community-specific outreach and are typically free to join. Facebook and Instagram are great platforms your business can use to boost your brand image and increase sales. Every small business can benefit from clearly communicating hours of operation, store location, online ordering options, and upcoming sales promotions with customers and a social media page makes it easy to do so.
Spruce Up Your Storefront
Thanks to another round of stimulus checks and a surge in consumer confidence, retail sales are expected to experience a 10% jump this year. This is great news for your small business because in-store shopping is expected to see a 7% increase as well, and restaurants will see a robust 16% increase in sales from last year.
Customers are chomping at the bit to be out and about to spend their money. Create a welcoming storefront so they know you're safely open for business. Easy and inexpensive marketing solutions such as custom banners can give your storefront a signal boost to help you maximize those spring numbers.
Many restaurants have opted in on outdoor seating, with 60% of casual dining establishments creating a patio-style dining area for customers to safely enjoy their favorite cuisine. Messages like Open for Business or Dine-in and Patio Seating placed on a roadside or storefront sign are highly visible to customers. Adding bright planters, dressforms, hanging lights, or storefront seating along with your signage creates an inviting atmosphere people will love to explore!
Have Fun With Event Planning
The small town of Tappahannock, Virginia has come up with a fun way to support small businesses in their community. Tappahannock Main Street recently hosted a Spring Fever Shopping Week event. Shoppers were given a business passport and received a stamp for each local shop they supported during the week. Those with a completed passport were eligible for great prizes. Over the weekend, they held an outdoor event with local vendors, live music and food trucks where they announced the winners.
This event is a great example of the ways small businesses can work together to encourage community participation. Find local opportunities to network and create safe, socially distanced events that encourage your neighbors to support the small businesses in your community. You can use flyers, banners, and social media to spread the word and get everyone involved.
Bet On Seasonal Sales

According to Intelligent Reach, retailers can expect to see a surge in online and in-store traffic thanks to customers' seasonal needs. Home and garden businesses, boutiques, restaurants, and outdoor sporting stores are just a few of the businesses that can expect a surge in sales.
The key to capitalizing on your sales potential relies on letting customers know your store is equipped with seasonal inventory such as plants and flowers, warm weather and special event clothing, or refreshing food and beverage options.
As the weather heats up, you can bet on more customers casually shopping in stores. Use signage and social media to let your customers know you have the items they need in stock and at a great price point. As always, sales are the perfect way to get customers interested in shopping at your store and purchasing your inventory!
This spring there will be many opportunities to make up some lost revenue from last year's shutdown. Shoppers are ready to spend, so make sure your business is ready for them!
References
73% of the U.S. covered in snow, most widespread coverage in 17 years
Fox 8 Live
https://www.fox8live.com/2021/02/18/us-covered-snow-most-widespread-coverage-years/
Spring fever is real. And it's a mess
The Boston Globe
https://www.bostonglobe.com/2021/03/22/metro/spring-fever-is-real-its-mess/
Cool it on spring fever, UCI Health expert cautions
UCI Health
https://www.ucihealth.org/blog/2021/03/cool-it-on-spring-fever-uci-health-expert-says
Social Media Marketing Statistics and Trends to Know in 2020
Review 42
https://review42.com/resources/social-media-marketing-statistics/
Retail: Sales Expected to Jump in March and April
Kiplinger
https://www.kiplinger.com/economic-forecasts/retail-sales
Nearly 60% of casual operators have added outdoor dining since March, report says
Restaurant Dive
https://www.restaurantdive.com/news/nearly-60-of-casual-operators-have-added-outdoor-dining-since-march-repor/594325/
Tappahannock Main Street – We've Got Spring Fever For Shopping Local March 24-31
River Country News
https://rivercountrynews.com/tappahannock-main-street-weve-got-spring-fever-for-shopping-local-march-p12910-627.htm
FIRST DAY OF SPRING TO SEE UPLIFT IN CONSUMER SPENDING
Intelligent Reach