April is Autism Awareness Month and today, Friday April 2nd, is World Autism Day. This is a great time to learn about Autism and ways you can create inclusive environments for those on the spectrum. The prevalence of autism has increased significantly over the last few decades. According to the CDC, 1 in 54 children born in the United States will be diagnosed with Autism. Understanding the color spectrum will help you make your personal and professional spaces sensory-friendly for friends, family members, employees, and customers on the autism spectrum.
About Autism
Autism Spectrum Disorder (ASD) is a complex developmental condition which affects an estimated 3.5 million Americans. Autism is a spectrum disorder that can impact each patient differently and to varying degrees. It can influence how a person communicates and perceives information. According to the Autism Society, the condition can cause people on the spectrum to experience extreme sensitivity to or significantly lower sensitivity to various sensory stimuli.
Studies show that 85% of the children on the Spectrum perceive colors more intensely than neurotypical children. In addition to the intense perception of color, nearly 20% of autistic people are synesthetes, or people who experience synesthesia. Synesthesia is a neurological condition which occurs when information meant to engage one sense leads to the stimulation and blending of several senses. For instance, someone experiencing synesthesia may equate a specific taste to a color or a unique color to a word.
Inclusive Color Choices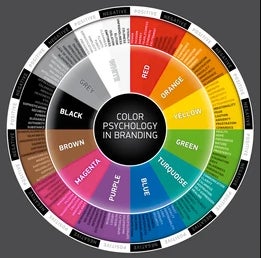 Sensory overload is the overstimulation of one or more of the body's five senses: taste, touch, sight, smell, and sound. While sensory overload is not exclusive to Autistic people, it is common in this community. For that reason, color choice is a critical aspect of designing safe, calming physical and online spaces for children, teens, and adults on the spectrum.
Bright colors should be avoided as they can overstimulate. Dull colors with white and grey undertones are ideal choices because they have a calming effect for children on the spectrum. Additionally, cool blues and greens are great choices due to their ability to create tranquility. Interior design company Hunker suggests low-intensity, neutral colors and soft lighting choices for children on the Spectrum. The key is to choose colors, sounds, and lights that will not over-stimulate their senses and, instead, create a place of rest and relaxation with colors that evoke soothing emotional states.
Conversely, bright reds and vibrant primary colors should be avoided due to their potential to cause hyperactivity and negative emotional responses. This resource provides an in-depth explanation of which colors are best suited for promoting an enjoyable classroom experience for Autistic students. Whether you are looking to create a more inclusive retail, learning, or living space, choosing tranquil colors devoid of bright or busy patterns will promote pleasant experiences for individuals on the spectrum.
Graphic Design and Online Accessibility
Color choice is just as important for online spaces as it is for physical spaces. Nikolay Pavlov's research on accessible user interface design for people on the autism spectrum provides great examples of how you can make your online stores and content more accessible to the autistic community.
According to Pavlov, color contrast is an important element of online design. In addition to choosing calming colors for logos, font colors, and other digital assets, you will also want to ensure an ideal contrast between design elements. He suggests the use of soft, mild, and light unsaturated earth tones coupled with simple graphics to increase scannability.
Choose fonts that have clean edges and are easy to read, such as those in the sans-serif font family. This modern font style is an ideal choice to boost readability for autistic and neurotypical readers alike. Finally, consider icons with soft edges for your online stores and content. Simplicity is key for successfully conveying visual information to all customers, but especially for those on the autism spectrum.
Customer Experience on the Spectrum

It is important for businesses to consider ways to retool the customer experience and make it more inviting for individuals on the spectrum. As you've already read, color choice is important to consider. Beyond wall color, consider how your business can design accessible visual materials.
Massachusetts-based Holyoke Mall hosts special events for shoppers with autistic family members. They offer early retail hours with small crowds and low or noise-free stores with dim lighting. For the holidays, they even bring in Santa Claus and Easter Bunny performers who are specifically trained to work with children on the Spectrum so every family can have a meaningful holiday experience.
You can apply the same inclusive color and font choices or event structure to your marketing materials and initiatives. For example, restaurants could offer sensory-friendly menus to dine-in customers with an autistic child, physical therapists can design business cards or magnetic calendars specifically for their patients on the spectrum.
If you are hosting an autism awareness event, these design considerations must be followed to create a welcoming environment for all participants. You can commission a graphic designer to develop visually appealing and sensory-friendly custom vinyl banners, booth set ups, and various other table top displays.
Keep these color and sensory considerations in mind as you develop personal and professional spaces for friends, loved ones, and customers in the Autism community. Environmental considerations and having an understanding of the color spectrum will allow you to create inclusive, calming homes, businesses and event venues.
References
What Is Autism?
Autism Society
The Use of Color in Autism Spectrum Disorders
Renk Etkisi
http://renketkisi.com/en/the-use-of-color-in-behavioral-disorders.html#:~:text=The%20Use%20of%20Color%20in%20Autism%20Spectrum%20Disorders&text=Studies%20have%20revealed%20that%2085,on%20children%20in%20this%20spectrum
People with autism may smell songs or hear colors
Spectrum
User Interface for People with Autism Spectrum Disorders
Nikolay Pavlov
https://file.scirp.org/pdf/JSEA_2014022510055814.pdf
Humans Prefer Curved Visual Objects
SAGE Journals
https://journals.sagepub.com/doi/abs/10.1111/j.1467-9280.2006.01759.x
How to Design Bedrooms for Autistic Children
Hunker
https://www.hunker.com/13412586/how-to-design-bedrooms-for-autistic-children
Retailers Rethink the Holiday Shopping Experience for Customers With Autism
Racked.com
https://www.racked.com/2016/12/16/13970412/cutsomers-autism-retailers