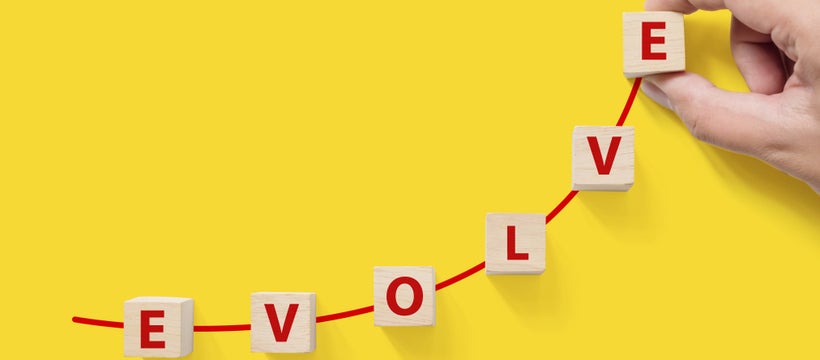 The pandemic has caused many small businesses to pivot their operations in order to keep their doors open. The looming threat of possible additional shutdowns and changing guidelines continues to create dizzying challenges for business owners. Despite these hurdles, several small companies have generated innovative solutions to stay afloat and meet their customers' needs. In 2021, evolving the establishment for more exposure remains critically important for the survival of your business.
Creativity In the Time of Crisis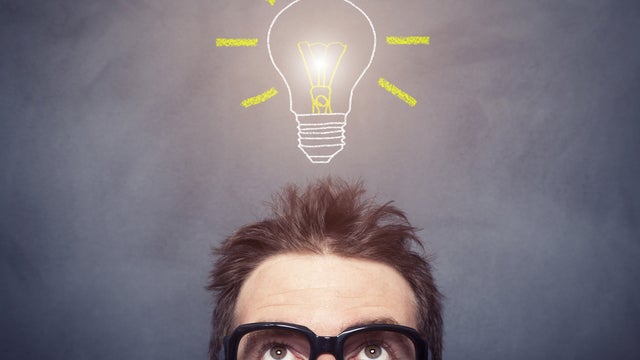 Restaurants have had to close or restrict dining room operations at their establishments. Some savvy business owners, like Kevin Samuel, saw the challenges posed by the pandemic as an opportunity to get creative. His plans to launch a Charlotte, NC-based restaurant were dashed when the shutdown went into effect. Samuel recalibrated his business model and The Exchange at 36th will now open as a local grocery store and lounge where guests can order socially distanced libations while they shop locally curated products.
Lawrenceville, GA-based Universal Joint has a similar strategy for safely serving their customers. In addition to contact free pickup, the restaurant-turned-one-stop-shop now offers a wide variety of menus to their customers. Customers can order everything from Universal Joint food favorites to essential items like toilet paper or sugar and even bottles of wine! These customer-focused options offer patrons convenience and a safe alternative to crowded grocery stores.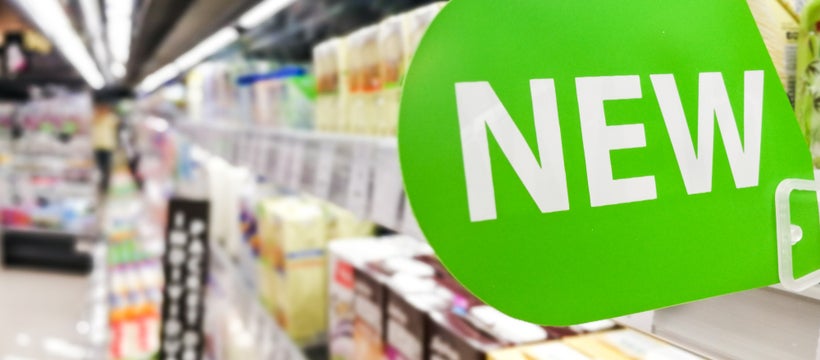 How to Pivot Your Business in the Pandemic

Creative adaptation is crucial for the survival of your business. Essentialize your store and offer products your customers need. Restaurants can work with food suppliers, like Sysco, to sell high-demand items like flour and toilet paper directly to consumers. Clothing stores can sell much needed face masks. Due to an increasing number of people working from home, retailers might focus on expanding their loungewear and casual clothing selections to meet customers' changing product preferences.
It must be said, pivoting your business strategy is only half the battle. You need to build awareness of your new business model and ensure customers still feel the same level of customer care. Use storefront flags to increase exposure with messages like Contact Free Grocery Pickup Now Available or Face Masks Sold Here. Table top displays are cost effective and help those customers who do shop in store to quickly locate these items.
Offering Online Options
There were 31.7 million small businesses in 2020. Yelp's Economic Impact Report shows that 60% of coronavirus-related business closures are now permanent. Shutdowns, spending psychology, and increasing coronavirus cases continue to pose an existential threat to small businesses. Despite these circumstances, some businesses are evolving online solutions to generate new revenue sources.
Burlington-based studio Feel Better Yoga didn't let the shutdown stop them from providing yoga classes for their clients. When they had to close their doors to stop the spread, studio owner Shelley Roupas took to Zoom to ensure her clients continued their yoga practice. Now the studio offers 35 virtual classes per week and averages 20 students per class!
Your business can take a page from Feel Better Yoga's book and develop an online strategy to generate new income streams. Bakeries can offer virtual pastry classes, gyms can promote Facebook Live at-home workouts for members, or craft studios can offer remote art classes to distance learning students. Generate increased exposure by marketing these exciting options on your social media platforms and company website. You can ensure your existing customer base is aware of these classes by mailing them personalized business flyers. Make sure your online platforms and flyers include class schedule, social media handles, and pricing information for customer convenience.
Expand Your Store's Footprint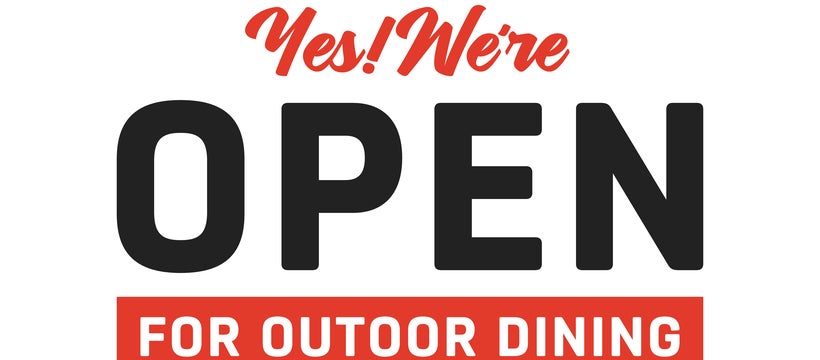 Indoor dining restrictions sent restaurants all over the country into crisis mode. Curbside pickup and delivery options are popular ways to stay afloat, but some businesses are expanding their outdoor dining options to combat lower sales.
A recent survey conducted by the National Restaurant Association showed that restaurants offering outdoor dining dropped from 74% in early September to 52% by late November. While patio dining is projected to be a popular option as we near spring and summer, outdoor heaters or tents are viable options to retain outdoor dining customers through the rest of winter. Patio signs which read Open for Outdoor Dining and Heated Patio create awareness of your new and improved outdoor dining operations.
Creative outdoor dining solutions have been a lifeline for businesses like Michigan-based Cafe Cortina. Despite harsh winter temperatures, owner Rina Tonon used heated tents to keep the outdoor patio a safe and comfortable dining option for her patrons. According to Tonon, this option is so popular that she plans to keep the outdoor dining tents around even after the pandemic has gone.
Mobilize Your Strategy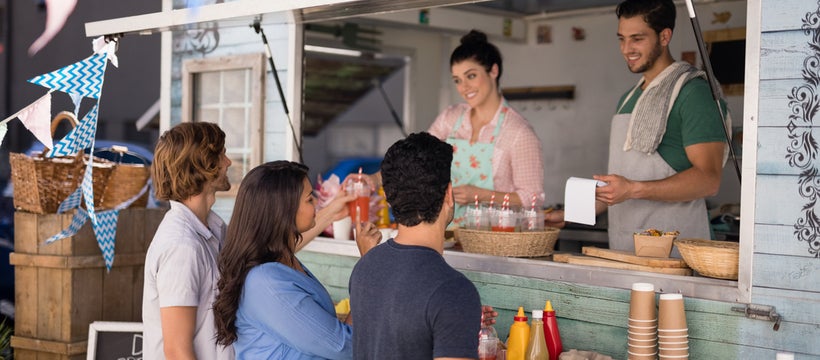 Bars and restaurants could benefit from less restrictive alcohol sales. Twenty three states have now approved the purchase of to-go cocktails. Despite a 40% decrease in sales, Anthony Clarke was able to keep his Baltimore-based Irish Pub from closing thanks to easing restrictions on carry-out beer and cocktail sales.
Even if your restaurant doesn't have a bar, there are ways you can effectively capitalize on mobile sales strategies. According to the US Census Bureau, food trucks are a $1 billion business. If building a patio is not an option for your restaurant or cafe, you could expand your establishment to include a mobile food truck or pop-up location for foot traffic. Fort Wayne based restaurant Bistro Nota is only 50% operational due to dine-in restrictions. The restaurant recently unveiled a popular "Bistro Bus" food truck to offer customers a safe, socially distanced dining option. Owner Cam Kaminski said the food truck will be the company's lifeline in the event of another shutdown.
Can your business benefit from adding a mixed drink to-go menu or food truck option for your patrons to enjoy? They merge safety and convenience to create appealing options for customers looking for new ways to ease their quarantine-induced boredom. Place branded flags near your food truck or storefront for a lightweight, budget conscious way to advertise these exciting options to customers.
As your business adapts to COVID-19 related challenges, glean inspiration from creative entrepreneurs for ways to combat revenue loss. It is possible to create new revenue streams to protect your profitability. Apply innovative, community centric solutions to evolving your establishment for more exposure.
References
Take a peek inside a new NoDa neighborhood grocer, and a bar
The Charlotte Observer
https://www.charlotteobserver.com/news/business/whats-in-store/article248280570.html
Lawrenceville restaurant converts into a grocery during COVID-19
11Alive News
https://www.11alive.com/article/news/local/mynews/lawrenceville/lawrenceville-restaurant-converts-into-a-grocery/85-9ce6bde5-afec-4598-94f0-4ab420df8dd3
Fast-Growing Food Truck Industry Can Operate Amid COVID-19 Social Distancing Rules, No Indoor Seating Orders
US Census Bureau
https://www.census.gov/library/stories/2020/09/food-trucks-one-way-to-eat-out-during-pandemic.html
Yelp data shows 60% of business closures due to the coronavirus pandemic are now permanent
CNBC
https://www.cnbc.com/2020/09/16/yelp-data-shows-60percent-of-business-closures-due-to-the-coronavirus-pandemic-are-now-permanent.html
Yoga studio goes online to maintain a sense of community and social distancing
Elon News Network
https://www.elonnewsnetwork.com/article/2020/05/feel-better-yoga-adapts-online-coronavirus
As Michigan restaurants reopen, owners say outdoor dining could be here to stay
Holland Sentinel
https://www.hollandsentinel.com/story/news/state/2021/02/06/as-michigan-restaurants-reopen-owners-say-outdoor-dining-could-be-here-to-stay/115445104/
Restaurant sales fell for the second consecutive month
National Restaurant Association
https://www.restaurant.org/articles/news/restaurant-sales-fell-for-the-second-month
23 States Where You Can Order Cocktails to Go
Eat This, Not That
https://www.eatthis.com/cocktails-to-go-by-state/
A cocktail to go with that carryout dinner would be here to stay in Maryland if legislation passes
Baltimore Sun
https://www.baltimoresun.com/coronavirus/bs-md-restaurants-want-alcohol-carryout-after-pandemic-20210210-q6awii5ck5d6pc73qfokqcqokq-story.html
2020 Small Business Profile
United States Small Business Administration
https://cdn.advocacy.sba.gov/wp-content/uploads/2020/06/04144224/2020-Small-Business-Economic-Profile-US.pdf
Fort Wayne restaurant introduces COVID-friendly food truck
Wane.com
https://www.wane.com/news/local-news/fort-wayne-restaurant-introduces-covid-friendly-food-truck/