The impact of COVID-19, Coronavirus has not only taken a toll on our lives but has crashed the global economy to a great extent. This virus is not just ordinary pneumonia that comes along guiding us to take precautions and medications rather it has forced us all to restrict ourselves from daily activities, maintaining social distance by staying at home for the indefinite days to come, meeting family or friends, colleagues so that the protection from this deadly virus infection can be maintained. The virus is recognized as the severe respiratory syndrome coronavirus 2 (SARS-CoV-2) and the disease it causes is called COVID-19. It is highly transmissible from the infected person through the medium of coughing, touching, spitting in public areas, mass gatherings, and other locations where it is easy to come in contact with other people.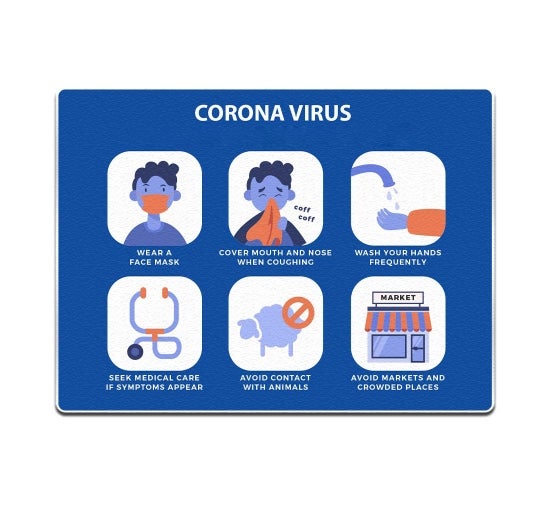 Opting online services, display banners, safety yard signs, Coronavirus advisory flyers for better safety and care
Considering the present scenario of pandemic spread, it highly suggested by doctors and experts to take precautions, stay protected, and avoid circumstances and visiting locations where you might get trapped in this horrifying viral cycle. Staying at home and moving out only in extreme required scenarios or for buying essential groceries is the need of the hour that we all have to adhere to right now. With the rising cases of people being infected with COVID-19, it has become the corporate social responsibility of every corporate firm and business group to come forward with possible variants of informative content, safety banners and signs to guide and inform their employees, visitors or even the passers-by about the severe condition prevailing. These communicative tools are meant to be highly supportive and helpful in informing everyone around you or your commercial premises and thus it could be a great aid in overcoming the situation at a faster pace.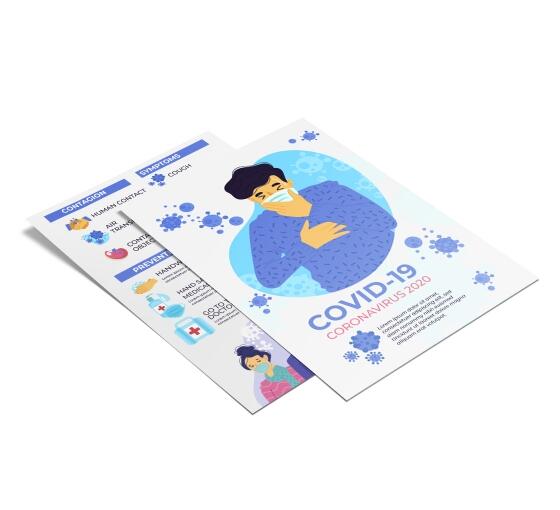 Pre-printed safety banners, advisory flyers, reflective yard signs for effective awareness campaigns
Meanwhile, being at home or working from home will aid you in better planning, strategizing, and executing it once everything returns to normal. This further helps in corporate branding, brand value building, and advertising so that your brand name and its efforts stay among your existing and prospective clients and customers. With this high-level spread of the virus, it is recommended to go for online mediums to speak out for your brand, reach out to customers through business e-mailers, chats, podcasts, and other interesting ways to keep your audience engaged with your brand's efforts towards fighting the crisis, latest updates, offerings, and other useful pieces of news. We, at Bannerbuzz, are striving each day to provide you with hygienically handled, packed, and delivered marketing materials, display safety banners or signs, and other promotional products so that the mounting effect of widespread COVID-19 doesn't hinder your business plans and growth. We deliver quick and safe solutions online with the help of our online customization tool or better known as the online design studio that allows you to choose the dimensions and modify the entire precaution banner, retractable banner stands, safety feather flags, Yard signs, and other promotional products at the comfort of your home. You can customize the length or other dimensions, lamination choices – gloss or matte, and many more specifications can be modified to bring out the exact desired results for your upcoming campaigns and advertising projects. Also, when it comes to personalization of graphics, one can suggest his/her preferred images and illustrations be printed on the banner, eye-catching quotes, tagline, brand name, logo, and so much could be a part of your wish list.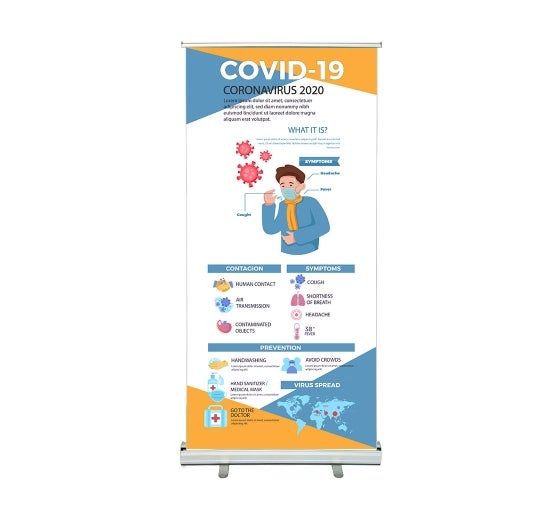 Furthermore, these precaution yard signs, safety flags or banners are perfect to spread awareness against Coronavirus within and outside your corporate and commercial premises, churches, press conference halls, schools, universities, convention halls or centers, public libraries, and lots of other locations too. Therefore, BannerBuzz is at your back if you are seeking one of the protective, hygienic, and effective tools to be delivered at your doorstep and within the shortest span. We assure the fastest delivery and free shipping across Canada.