All the business owners, entrepreneurs or retail vendors in the world have one thing in common; they all want to stand out from the competition when it comes to advertising. Originally, that's the main objective of advertising. Large companies with big pockets can easily assemble a marketing team equipped with all the latest technologies, skills and resources to attract customers, but not everyone can afford that luxury in the business community. Due to which flag advertising among small businesses has gathered momentum because they are light in weight and cheap yet very effective in grabbing the eyes of passerby. However, with so many advertising flags in different shapes, sizes and varieties out there, choosing the right one that can work for your business is like searching for a needle in a haystack because there are many things involved here like money, time, targeted audiences and prediction of handsome results. To aid you with advertising flags to choose from, we recommend you to go for feather flags as they create a pleasing effect when they flutter in the wind with your company's logo printed on both sides.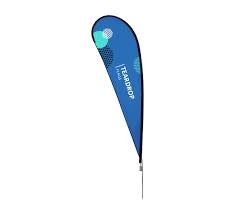 Available in multiple sizes
Easy to assemble
Heavy-duty aluminum and steel construction
Hardware includes cross base & spiked base, pole pockets, and carbon composite fiberglass
Graphic is optional
Available in single/double-side prints
Made up of high-quality flag fabric, including polyester, nylon or any other synthetic fabric
Machine washable
Many possibilities of advertising with feather flags
From the word itself, it is called feather flags because they were given the physical appearance of a feather to create a distinctive sight and it stands in a flagpole. You can find these types of flags mostly in outdoor fields where an event is held. Most notably, we see them at sports events, musical concerts, beaches, or soccer field and of course, the Olympics – the list is infinite. They are getting so popular that businesses around the world have adopted these feather flags for advertising their establishments like manufacturing units, exclusive stores, chain outlets, special events, where they need to display special offerings for consumers. You can ask for custom feather flags as well if you have plans to add a few specifications of your own.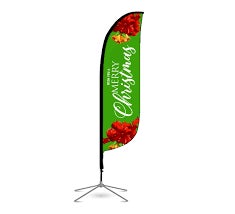 Vital benefits of advertising flags
The most valuable aspect of feather banners or flags is that people will still be enjoying reading your printed message though the strong wind is blowing your feather flags out of control. A few years ago, feather flags saw a massive inflow of demands for business promotion because they do not wrap around the flagpole and keep attracting people with the waves they make with the strong winds. They can literally dance with the winds while displaying your message. There are many other flags designed on the same principles, including custom flags, blade flags, teardrop flags, promo flags, and many more. You can create country flags using the same technique.