Labours are the strength and pillars of any business' foundation and therefore deserve equal respect and applaud as other employees. Just setting them free for the first Monday of September as a public holiday is not all. They need to be recognized for the efforts that have strived now and then in versatile tasks. Every organization must come forward with different or unique ways to celebrate their labours. Providing them with monetary assistance, family health plans, better education support for their kids, timely recognition, and many more are the ways to appreciate their hard work. Labours are not just known for building infrastructures, performing varied tasks within the organization, or at any commercial unit. But they bridge the gap within communities and nations to come together for better performance and economic growth.
Observed every year on the 1st Monday of September, Labour Day is a federal statutory holiday to celebrate the labours/workers and the labour union movement. It is observed on the same day in the U.S as well. Corporate firms, commercial setups, fashion clothing stores, and other operational services choose various ways to wish and celebrate their workers. Presenting the gifts to them, personalized greeting cards specially curated for them, displaying personalized decals, banners, custom mugs, custom pens, t-shirts, and flag banners are some of the effective and creative ways to show affection, respect, and love.
We provide custom banners and other display methods for various requirements. Let us know how we can make your experience better for any day, event, or occasion.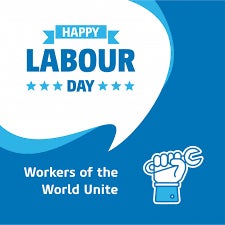 Catch the eye of passers-by through personalized Labour Day Messages:
Display labor signs, vinyl banners, or teardrop flags on any of the following locations to work as one of the effective attention-grabbers. Communicate upcoming offers on products and services, special discounts for labours, pay respect to labours through personalized labour banners, feather flags, and other display options. Put these mentioned tools right on the below-given sites for enhanced attention and visibility:
Sidewalks
Storefront
Side poles
Street Poles
Yards
Gardens
And other vital locations where these signs are easy to view.
Don't let COVID-19 stop you from wishing workers or staff on Labour Day
Make the most out of digital advancements and leave no room for hindrances to reach your workers. Create greeting cards and other digital wishing materials online to bring a smile on your labours' lives. We offer both online and offline facilities to come up with quirky, innovative ideas to make it through. Design flat or folded greeting cards folded thank you cards, flat note cards, and more to be presented to the labours of the organization. Discounts for workers on products and services, offering them discount coupons or discount cards to be used at various grocery marts, and similar options can be chosen to make a difference to their usual routine. Don't just embrace the workspaces for Christmas, new year, and other festivals with wall decals or stickers but come with an innovative way to embrace the work and efforts your labours invest in to take your business forward. Design vinyl banners, polyester fabric banners, or even window clings online with labour quotes and relevant images to celebrate the day in full swing, with respect and love for each other. Design these displays online with us, and we'll get them delivered within the quickest span.