Before we delve into the details of how bamboo roll up stands can help pay off your marketing efforts, let's take a closer look at why we use bamboo stands:
Bamboo is undoubtedly one of the fastest-growing, flexible and strongest plants found on the planet that is constantly used to meet hundreds of construction goals. On average, it reaches its full maturity between 3 to 5 years of growth. Compared to other hardwoods that would 50 years to mature, bamboo acquires the same durability and strength within a few years. Bamboo, in reality, is harder than red oak but slightly softer than white oak rock maple or hickory, while at the same time being incredibly lightweight and flexible. Such notable qualities make it a perfect material for the construction of retractable banner stands, creative stands, roll up stands, etc. They are easy to transport from one place to another.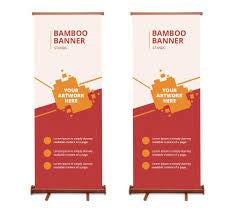 Give your display nature's touch with bamboo roll up stands
The use of bamboo roll up stands for promotional display reduces the pollution emitted by the machines used to manufacture traditional materials such as aluminum, plastic, fiberglass, etc. In simple words, bamboo roller banner stands is an altogether environment-friendly marketing approach. You can further enhance this by using biodegradable graphic material for printed graphics, too. Polyester, nylon, vinyl or cloth material used in exclusive banner stands are printed by using computerized dye-sublimation process to create a lustrous visual impact, so the printed graphics can blend into the fabric and do not fade. But with bamboo stands, you can use bamboo fiber or lightweight textiles, which further accentuate their unique appearance. As a result, even when your bamboo stands outlives its use, they will still be used to serve other purposes. Bamboo roll up stands are incredibly easy to setup and use compared to other banner stands made up of metal frames. After use, the banner graphic simply roll back into their stylish cases and carried away in a fabric carry bag by just one person.
Benefits of using bamboo stands:
Attractive bamboo base and poles
Environment-friendly material
Easy to assemble and drawn back in 2 minutes
Flexible, durable and strong
Natural look
Quality padded bag included
Show off your love for nature with Bamboo display stands
Your choice of using earth-friendly bamboo stands for advertising will make viewers pay attention to your booth and praise your efforts in saving environment. It creates an impression of being a professional and responsible organization who cares about the environment and reduces its carbon footprints as much as possible compared to other careless traders. Bamboo stands are not just very useful and practical as an advertising tool but they look beautiful and provide an extra special natural touch to your exhibition booth. You may think of bamboo stands as an expensive commodity because nature-friendly products often are. In this case, you could not be further from the truth. They are even more budget-friendly than those metal frames used to setup your graphics. Therefore, bamboo roll up stands provides an eco-friendly, earth-friendly and budget-friendly option to keep your brands and products visible to all and have a beautiful and professional looking, hardwearing displays that you can transport without applying physical force.