With magnetic signs, you can advertise anytime, anywhere. You will find your magnetic signs can stick to any metallic surface without leaving any adhesive residue or tampering the surface with scratches or dents. Magnetic signs use magnetic force field, which allows them to stick onto a vast number of metal surfaces including aluminum, iron, steel, bronze, and you can remove and re-apply them repeatedly as they don't have any adhesive backing. They can be transferred from one location to another to serve a variety of advertising and promotional needs.
On vehicles uses
Out in traffic, there are thousands of commuters on the road. You can showcase your business profile among other drivers and people walking on the pedestrian' pathways. Magnetic signs are often used on commercial vehicles, private cars, pickup trucks, automobiles and two-wheelers. They are thick and made up of quality-rich material for durability, making them easy to remove and quickly to put back on your vehicle. Magnetic car stickers and signs provide a unique method for mobile advertising for people who owns a chain of vehicles for business or personal use.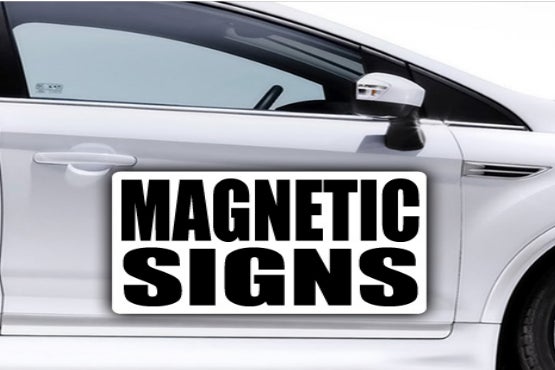 Although, most of the users may find car advertising magnet so comfortable to use, they might simply overlook the fact that a magnetic sign should be removed after a few days of usage to prevent the metal under the vehicle's coat of paint from oxidizing or corroding as magnetic signs will trap the moisture under these signs.
Use them in manufacturing companies
Magnetic signs can be placed just about anywhere with a large metal surface. They have already proved to be valuable signage used in a mechanical workshop where many metal surfaces are present. In case you wish to relocate its position, just peel it off and reapply it on another surface. They are easy to carry around by just one person, so you can easily use them at an offset location like trade show events, conferences, sales events, exhibitions, etc.
Design and content
Magnetic signs can be designed in letters and numbers or a unique combination of colors and graphics and text. You can customize your magnetic signs to add artworks, images, text messages or multiple colors to ensure a greater visual impact. You can include the company's name, logo, owner's photo, office pictures, clientele list, contact details and website URL. This type of advertising will allow you to reach maximum number of people from different locations, advertise your products, and inform your targeted audience about your specifications and qualifications, and best of all, they are movable.
Advertising in style You can use them for multiple purposes at multiple locations such as retail shops, shopping malls, or even on roads. You can use magnetic door signs and window signs to showcase your products and special offers to people outside your retail shop. Using them as parking signs, street signs or custom license plate on your vehicle will add an alluring charm to the overall message.