To get your business catch the eyes of potential customers and promote your brands, there are plenty of advertising tools and options available in the market nowadays. Out of so many advertising products, billboard printing is one of the best options for businesses to get some spotlight. It is foolish to believe that the relentless march of online marketing can ever crush this effective form of advertising or even lose its spark in the near future. Even in the arena of offline marketing where products like banner stands, backdrops, flags, signs, stickers and decals are growing in demand, billboard printing has never lost its shine and rose to power as a powerful tool with hundreds of businesses still opting this aggressive form of marketing. Hence, billboard vinyl banner that is tailored to the specific needs of end-users is something you need to take into account with your business.
Billboard printing – fun and effective method to promote
The use of billboard vinyl banner has never been this much fun and effective. The reason for that is pretty simple from the perspective of affordability and durability. This is due to the fact that billboard printing has become more cheaper and affordable to small businesses. With advancements in banner printing technology, the graphics are of better quality with superior quality. You can try using custom banners with vinyl material for billboard printing as they are strong enough to withstand harsh weather conditions including heavy rainfall, UV rays, stormy winds even pollution emission. So your banner graphics never fades in color. Custom vinyl banners allow you to tailor the size, shape, design, colors, and font of your advertisement as well as add artworks, images, logos, and text messages of your choice.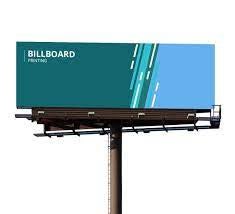 Must know information – while designing your billboard vinyl banner:
Billboard printing ensures clear visibility of your business products
Communicate your business and reach maximum customers
Keep the background vacant for maximum impact from the front
The images should be impactful and daring
The ads should be cohesive, clear, and subtle, not disjointed with unnecessary elements so your banner does not look bulky
Keep the text low
Use large and readable font
Avoid clutters
How technology gave a new height to billboard printing?
A couple of years ago, billboards were mounted on a huge metal frame by using a crane. These were hand-painted by professionals on the plain material, so you have to wait for a few days to get it done. Now, through the computerized process, the billboard advertisement is designed with the latest software and the graphics can be printed immediately on vinyl banners material. The material will then glued to the frame of the billboard. The whole process is fast and inexpensive. The quality of the printed graphics has also improved multiple times with vivid colors in comparison to the traditional hand-painted advertisements. Technology in this way has played a great role in elevating the quality and significance of billboard printing in the market. Aside from being an inexpensive advertising tool, they can serve at their best for outdoor advertising. You can use them as indoor banners as well.