Competing for customers' attention can be a challenge in a typical year, but the coronavirus has forced companies to navigate unanticipated challenges in addition to the standard hurdles of operating a business. Under normal circumstances, more than 50-percent of small businesses fail during their first year. Factor in the 31-percent of small businesses that are no longer operational due to the pandemic and it's clear to see just how critical an effective advertising strategy is to keep your doors open. It's imperative to act now to protect your business from economic despair and implement business essentials to increase your visibility and generate sales.
Find New Customers With A Company Website

The advent of the world wide web means bridging the gap between small businesses and buyers is easier than ever. It also means your company needs to reconsider your idea of community and make an effort to connect with new opportunities by creating a company website.
Despite the fact that 50-percent of global ecommerce revenue came from mobile devices in 2020, 64-percent of small businesses still do not have a website. Many shoppers are reluctant to return to traditional shopping activities, so a website is a necessary way to connect with those customers and boost your sales by attracting new business.
One furniture company partnered with a digital marketing agency to increase their online sales. By adding the GreenGuard Gold certification to the company's landing page, they saw a 46-percent increase in conversion for their sales! A company website is a worthwhile investment and being strategic on your home page and landing page(s) will increase your credibility and help your business standout from the competition.
Communicate Effectively With Signs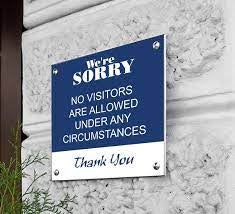 Covid-confusion is plaguing shoppers because the Covid-era customer has many questions and concerns which businesses must address in their promotional messaging strategy. Sweeping shutdowns, ever-changing store hours, and increasing business closures leave customers frustrated and unsure where to turn to find much-needed products and services. Make sure your business is part of the solution, not the problem. Utilize effective storefront signage to increase visibility and decrease consumer confusion.
According to one study, 27-percent of consumers are now saving more than they normally do, and 26-percent plan on saving more funds in the future than normal. The same study shows that these new shopper sentiments are sticking around after COVID-19 is a thing of the past with 59-percent of consumers considering customer experience even more now than before the pandemic as a primary factor when choosing which brands and businesses to support.
It is imperative to use storefront signage and window decals to answer customer's questions and communicate value. Short and simple messages like We Are Moving, Grand Opening, or placing new operating hours on your storefront where customers can easily find this information is a highly visible way to communicate changes to your customers.
Additionally, messages like Essential Item Sale or Price Matching Guaranteed communicates your awareness of your customers' needs. Promotional messages that emphasize price point and value grab customers' attention and entice them to visit your store to explore your price points.
Marketing Must-Haves for Capturing Customers On the Go
A Better Homes and Gardens survey found that 29-percent of American consumers stated they were drawn into unfamiliar stores based on the quality of the store's signage. However, the same survey also found that 41-percent of respondents made judgements about the quality of a business based on the quality of its signs. Therefore, your marketing materials need to have an effective design strategy, clear message, and be highly visible if you want to attract new business.
The great news is, elevating your promotional message with high-quality advertising products doesn't have to equate to high advertising costs! Actually, flags and signs are affordable ways to grab a customer's attention thanks to their versatility. Their lightweight, durable materials and easy assembly make them an ideal choice for on the go marketing.
A recent study found that brand recognition was the second biggest reason why consumers purchase a new product with the first reason being the price. From pop up shops to outdoor events and tradeshows, your customers will appreciate highly visible messages that allow them to quickly locate your setup or booth and make informed purchasing decisions. Add your company logo and a scannable message about special event pricing to position your brand as the most desirable option.
Why Your Business Needs Brochures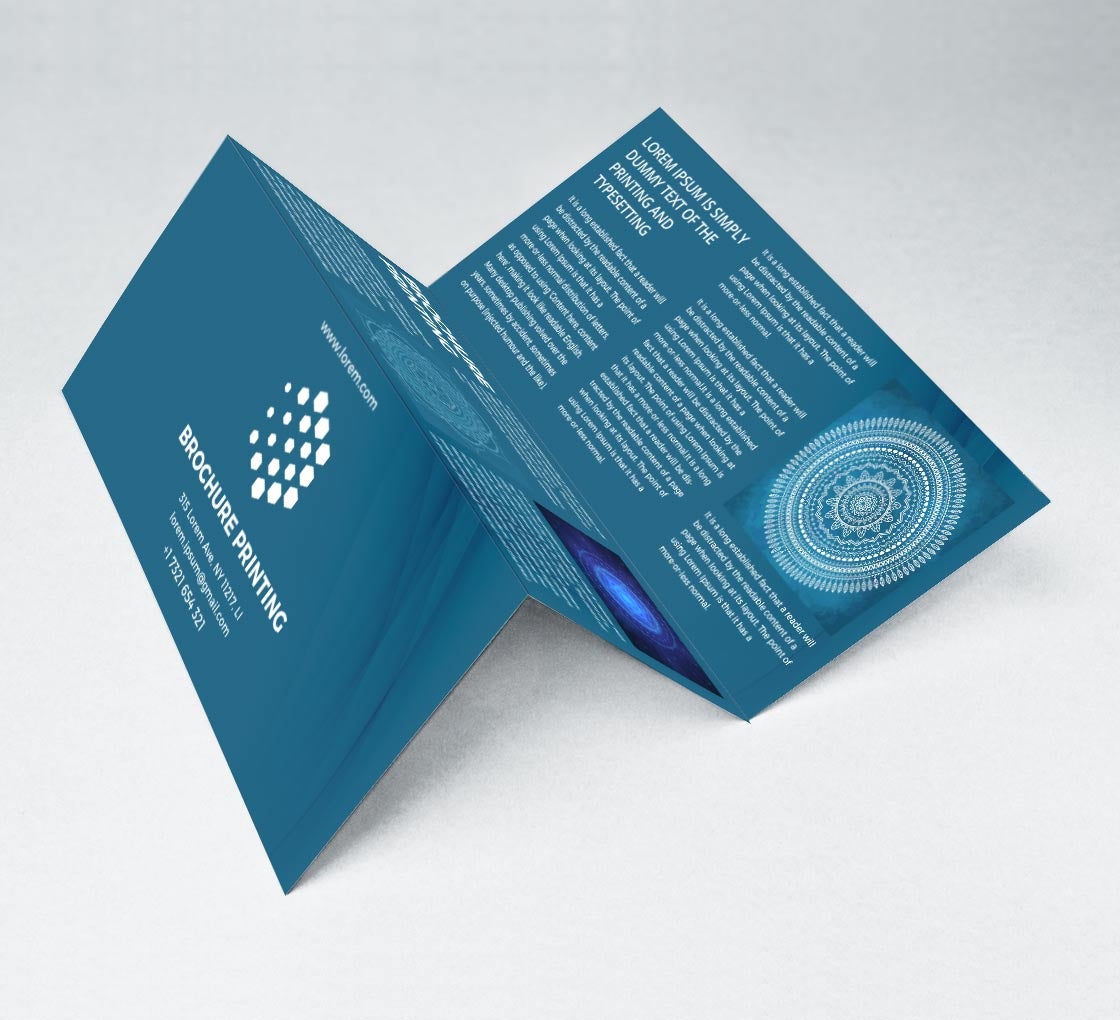 In a recent survey, 72-percent of consumers said they will make more of an effort to support small businesses. Make that support easy by providing them with the information they need in order to purchase. Specialty stores, salons, and restaurants are just a few examples of the types of businesses that would benefit from using brochures.
Custom brochures let you promote your comprehensive goods and services list in a tactile way. Offer a brochure to customers as they decide on a spa service or choose which lunch special to order. If your business has recently launched a social media platform, ecommerce option or added a delivery option, include that information on brochures and place them in customers' hands at checkout.
Business Cards And Beyond
Business cards can be a powerful networking tool to connect with other businesses and customers. They also create a sense of professionalism. Commission a graphic designer to help you develop a business card that reflects your company's brand voice and style and includes your company logo, address, contact, and hours of operation.
If your business exists in the B2B realm, consider sending utilitarian promotional items to your clients like branded face masks, coffee cups or personalized notebooks. Building contractors, real estate firms, and SaaS startups can benefit from investing in business cards and B2B promotional items to build brand awareness and grow their clientele.
Safety Procedures For Business Survival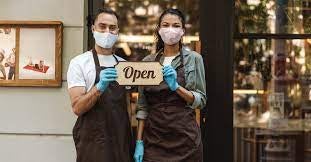 Create a sense of safety for patrons in order to keep your doors open during the pandemic. One consumer psychology study found that 95-percent of consumers want companies to implement physical protection and distancing measures to promote in-store health and safety. Safety procedures are essential for your business' survival.
Take into consideration the 72-percent of consumers who stated they would feel a greater sense of comfort if there was more physical space between themselves and other consumers and it's clear to see why items like social distancing decals and hand sanitizer dispensers are in demand. Use these items in your store to encourage safe, socially distanced shopping experiences and promote hygienic shopping practices amongst employees and patrons.
Bet On These Business Essentials For A Better 2021
Adapting your business for a COVID-19 era climate is challenging but with the right tools and strategies, your business will overcome these hurdles, increase your brand visibility, and drive sales. Build a website to reach new customers, decrease consumer confusion with signage, increase brand awareness with mobile marketing tools, brochures, or business cards, and don't forget to improve your in-store safety procedures. Utilize these six business essentials now and you will have a winning formula to boost brand awareness, improve customer satisfaction and increase your sales.
References
10 Small Business Statistics Every Future Entrepreneur Should Know In 2021
Oberlo
https://www.oberlo.com/blog/small-business-statistics
2021 Small Business Website Statistics You Need to Know
TDA
Ecommerce: 10 mini case studies of successful marketing for online shopping
Marketing Sherpa
https://www.marketingsherpa.com/article/case-study/ecommerce-10-mini-case-studies-successful-marketing-online-shopping
Customer Experience Mindset In A Post COVID-19 World: An Infograph
Forbes
https://www.forbes.com/sites/blakemorgan/2020/04/27/customer-experience-mindset-in-a-post-covid-19-world-an-infograph/?sh=37a028713d0e
100,000 Shoppers Can't Be Wrong: Signage Communication Evidence from The BrandSpark / Better Homes and Gardens American Shopper Study
Sign Research
http://www.signresearch.org/wp-content/uploads/BrandSpark-Better-Homes-and-Gardens-American-Shopper-Study2011.pdf
Looking to achieve new product success?
Nielsen IQ
What Consumers Will Care About in 2021
Business2Community
https://www.business2community.com/consumer-marketing/what-consumers-will-care-about-in-2021-02371855
Which COVID-19 Safety Policies Will Comfort Consumers?
Morning Consult